Transitioning to Value-Based Payment: Five Best Practices for Health Plans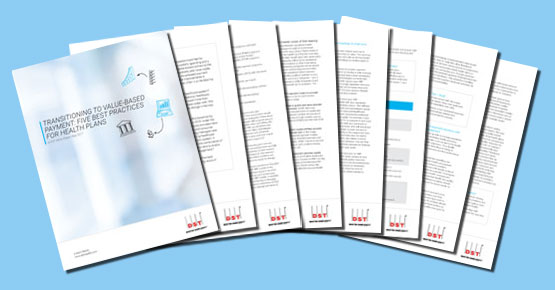 Download Your FREE White Paper TODAY!
---

In addition to the White Paper, we are offering this supplementary podcast:


---

Payment models for healthcare in the US are at a crossroads. The predominant fee-for-service (FFS) model is widely recognized as a major contributor to wasteful spending and a barrier to improving healthcare delivery. To promote value and progress toward achieving the Triple Aim of an improved experience of care, better health for populations, and lower costs, health plans are turning to payment innovations centered on value. Value-based payment (VBP) programs tie healthcare provider compensation to measurable improvements in quality of care, patient health outcomes, patient experiences, and cost, often in a risk-bearing relationship.

Why is the move to VBP now recognized as an imperative for the US healthcare system? Simply stated, the current economic trajectory cannot be sustained. The continued rise in healthcare costs, with little correlation to achieving the Triple Aim, is a key market force driving this change in the way healthcare providers are paid.

The US Department of Health and Human Services (HHS) is facilitating this transition by moving Medicare toward payments tied to quality and value beginning in 2019. Under the Medicare Access and CHIP Reauthorization Act of 2015 (MACRA), Medicare providers have strong financial incentives to improve the delivery of healthcare services and consumer health outcomes. Likewise, states are transforming Medicaid by expanding managed care and quality incentive programs. With the shared bipartisan goal of reforming healthcare to deliver high quality and affordable care, the move to a value-based delivery system is expected to continue.

This DST Health Solutions white paper explores different stages and models of VBP and outlines five best practices in charting a strategic path to propel health plans toward advancing levels of payment innovation.